Openness can be perceived as an important factor in the process of creating engaging spaces that involve users, support collaboration and stimulate knowledge transfer. However, heritage institutions face multiple challenges regarding the digital dimension of their work and while the need to involve strategic thinking is urgent, it is crucial as well to perceive it as fundamental for the fullfillment of the institution's mission and integral with all the areas of activities.
What we said
During the workshop "How to open up your institution? Strategic thinking about openness in the context of institution's mission and audiences" at "We Are Museums" we shared the expertise we have aquired during our work as consultants for GLAM institutions that are looking for new ways of using technologies to engage with wider audiences, stakeholders and work on new models of institutional collaborations to keep the heritage resources circulating.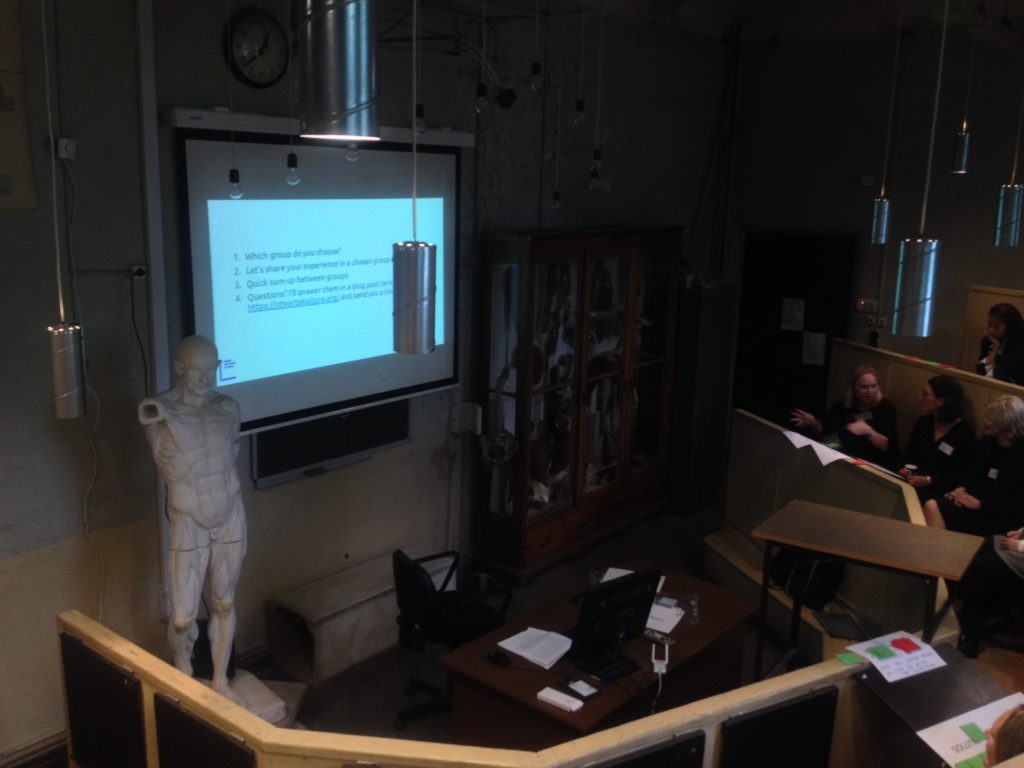 Centrum Cyfrowe works towards social change and enhancing citizens' participation through the use of digital technologies and open, cooperative models based on sharing knowledge and other resources. Our work and projects fall into three main categories: Open Education, Policy and Open Culture, including Open GLAM.
The basis for all of our work and projects is the idea of openness which means the availability of resources and promoting models of cooperation based on them.
Openness framework
Within Open Culture program we support heritage institutions on their way to openness. Openness covers both copyright and technical levels. Heritage institutions face multiple challenges regarding the digital dimension of their work. And we work together to provide audiences with wide and unrestricted access to their digitised collections. Openness serves as a tactic while the end game is defined by institution itself.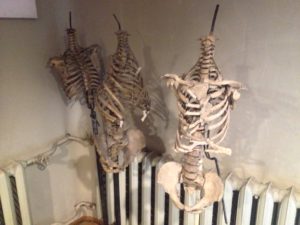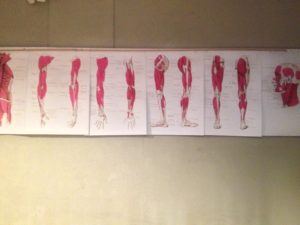 photos from the workshop in Riga during "We Are Museums" (it took place in Academy of Arts – the first workshop was in an anatomy class)
The expertise we have aquired during our work as consultants for GLAM institutions and the results of the research project we have conducted in 2015 served as a basis for the Openness Framework. We created it to support the process of opening up cultural institutions that help them facilitate the change.
Using the Openness Framework we collaborate with institutions with different backgrounds, structures, scale and scope.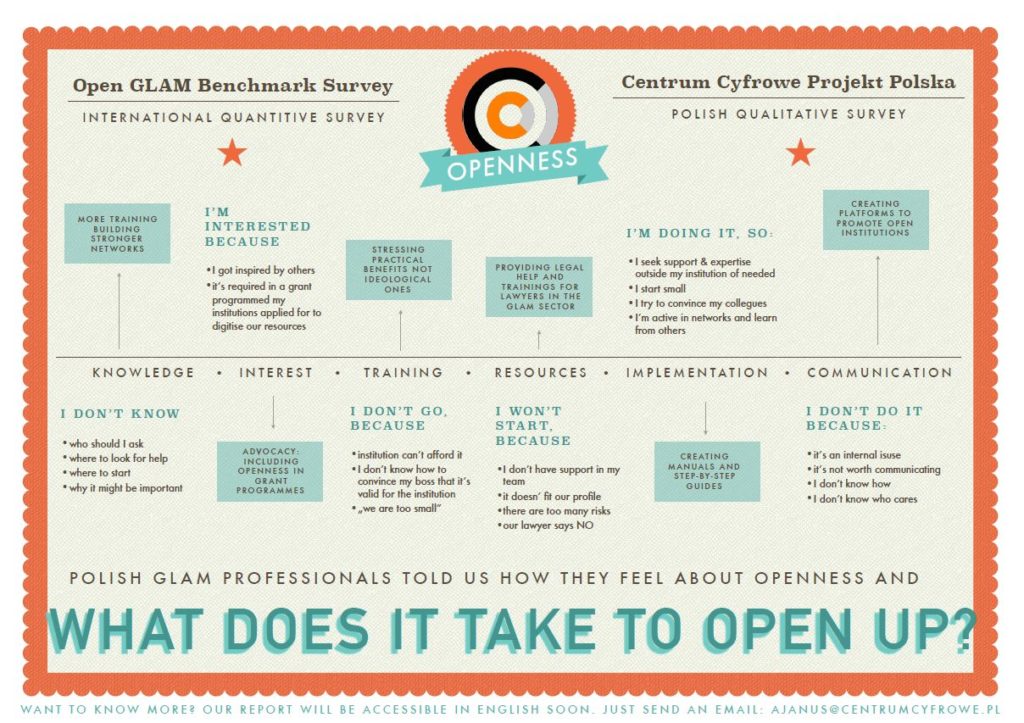 No matter how big or how small the institution is, we focus on developing strategic thinking, that we perceive as crucial for the fullfillment of the institution's mission in the digital era.
Our Framework is designed to help institutions engage with wider audiences and stakeholders, develop new models of institutional collaborations, enable reuse of their collections and – as a result – keep the heritage resources circulating.
We start with defining the need. We try to capture the status quo and at the end of the initial phase we want to know: what the main challange is.
We realized that developing solutions no matter the problem starts with talking about big picture. Most of the institutions we talk to suffer from lack of defined vision / mission statements. And even if they have it always is good to take them out from day to day work and come back to this discussion making sure that they all have the same in mind within institution. We talk about openness as a tactic. We picture a blue sky polices and show them good examples trying to figure out what could be desirable for them to achieve. What level of openness is ok for them.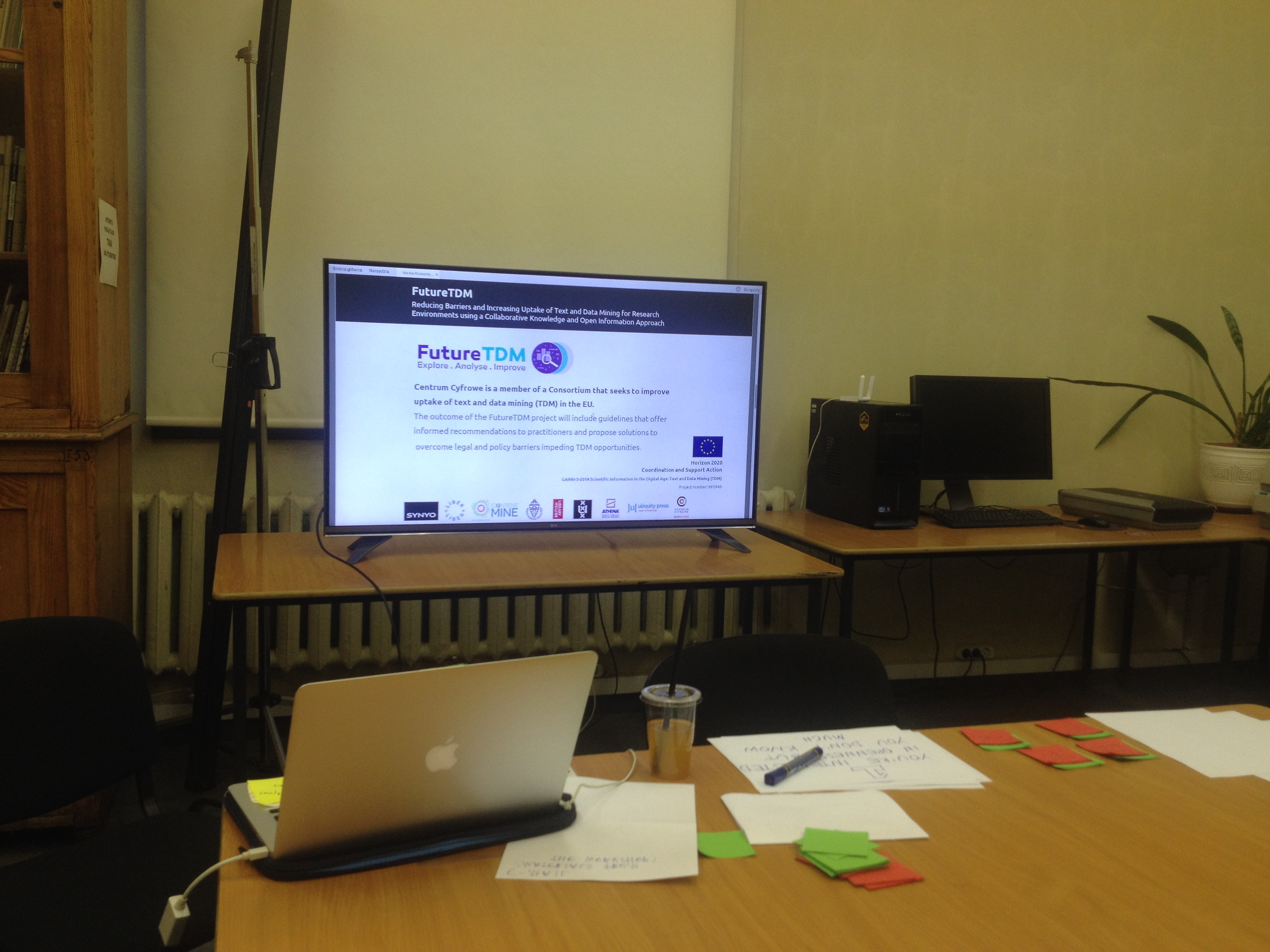 During both workshops we talked about open data (we are the partner in the Future TDM project) and possibilities of using and sharing it for cultural institutions.
Once we know the mission, the direction, we draw the solution and go to field work. We do audits, collect data, copyright clearance, we run workshops in order to build legitimisation of the process within the team.
Open Culture Studio
In 2017 we launched the Open Culture Studio. It is a laboratory space which supports the public mission of cultural institutions through bringing audiences closer to open digital heritage resources.

The studio brings together representatives of cultural institutions, social scientists, designers, developers and users to work together on developing innovative and effective ways to share digital cultural resources.
The Open Culture Studio connects people with heritage resources.
In 2017, the Open Culture Studio invited four institutions to cooperate, including three selected in a competition (the National Museum in Warsaw, the Museum of Warsaw and Ośrodek KARTA) which joined the Partner of this edition – the Polish History Museum. Four teams, consisting of employees of the institutions with different competencies, as well as experts working with the Studio (developers, UX specialists, graphic designers and additional specialists whose expertise will be needed during the project), will work during four meetings in a medialab format, as well as between the meetings, under the guidance of two experienced mentors, on four prototype solutions that make the digital resources of their institutions available. Next, in an open competition, two solutions will be selected from the four prototypes, and next year, they will be created in the Studio with the representatives of the two teams that developed them, and which will then take them over and use them in their institutions.
What we saw and found most interesting during the conference
Our favourite talk was made by Merete Sanderhoff from SMK (Statens Museum for Kunst that is the national gallery of Denmark). She talked about "Old collections as building blocks for new creativity". In very inspirational way she was convincing other museums to open up their digital collection not only to have a possibility to see it, but to encourage visitors to re-use it. SMK has just finished the first step of the Art Jewels contest. Now the jury has to choose the best jewellery created on 3D printer. Designes are based (re-use!) on the Jewelry Collection of SMK.

The other project that is based on re-use is called Pink Twins Infinity. It's a tool for re-using music and creating own songs and melodies. Pink Twins, authors of recordings used in the tool, are media artists and electronic musicians from Helsinki.
All new pieces, that you can download, are licenced under Creative Commons BY-SA 4.0. The project was made in the Museum of Contemporary Art Kiasma in Finnland.
For more our materials in English click HERE.
If you have questions, please contact us: otwartakultura@centrumcyfrowe.pl
"We Are Museums" conference took place in Riga (Latvia) in June 2017. Ewa Majdecka from Centrum Cyfrowe conducted two workshops: "How to open up your institution? Strategic thinking about openness in the context of institution's mission and audiences".